It's often said that the .30-30 Winchester has "taken more deer than any other cartridge." Axioms like this are hard to prove and I can't prove this one. Over the years, I've taken deer with numerous different cartridges…but only a handful with a .30-30.
Even so, I think it's probably true. Introduced in 1895, the .30-30's original 160-grain load barely hit 2000 feet per second, slow by today's standards…but faster than any black powder cartridge. Compared to the large-cased cartridges of the day, the .30-30 was a tiny little thing. Early users quickly learned that its new smokeless propellant harnessed a lot of power and flattened trajectory. The .30-30's also-new jacketed bullet penetrated well and offered a new dimension to bullet performance: Expansion.
In the euphoria over this newfound velocity the .30-30 was often used for large game, elk, moose, and even big bear. Undoubtedly, it still is, and with perfect shot placement (and, in its traditional lever-action platform, with fast repeat shots) it will get the job done. However, in 1895 and today, deer are America's most widespread and popular big game. The .30-30 was quickly found extremely effective on deer-sized game…and remains so today. No one can estimate how many millions of deer have fallen to .30-30s. Winchester has made 7.5 million Model 94s, most of them in .30-30, and millions still in use. Add in hundreds of thousands of lever-action .30-30s from Marlin, Mossberg, and Savage; a few slide-actions, and a major sprinkling of single-shots. The .30-30's rimmed case is probably best-suited to traditional tubular-magazine lever actions, but it was chambered to a surprising number of early bolt-actions!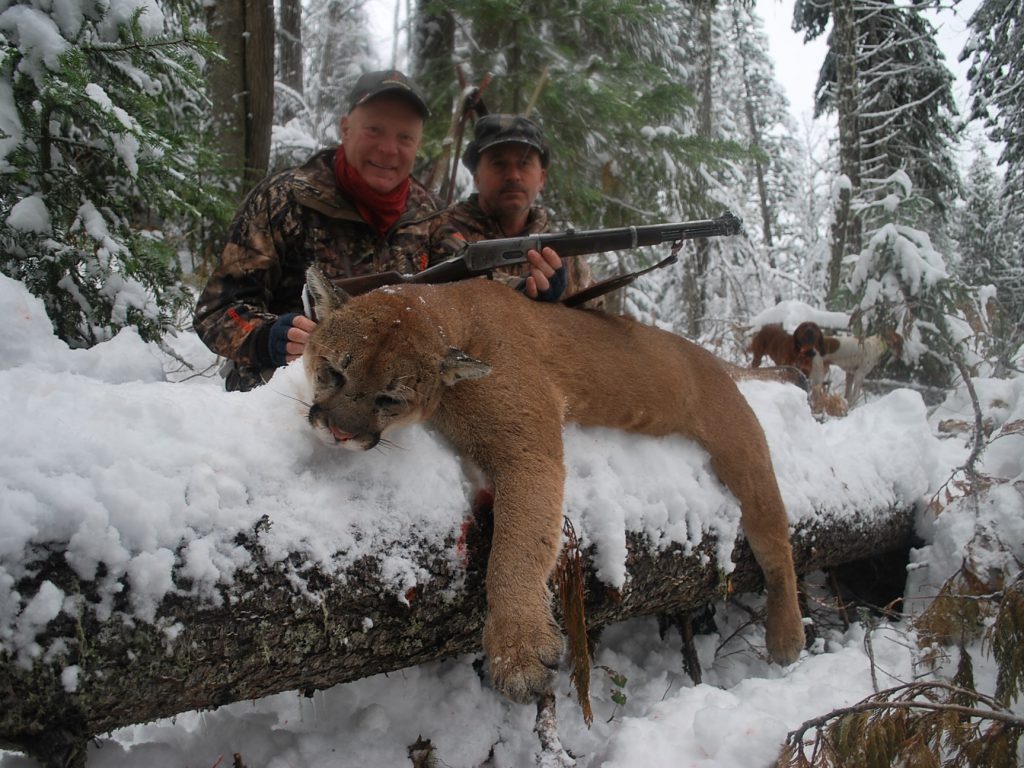 Despite the many cartridges that are faster, shoot flatter, and harness more power, the .30-30 remains among our best-selling cartridges. Perhaps more surprising, it remains among the top cartridges in reloading die sales. Admittedly, this is partly because there are so many .30-30 rifles out there. However, I think it's also partly because the .30-30 remains a useful hunting cartridge, with relatively light recoil and deer-killing efficiency.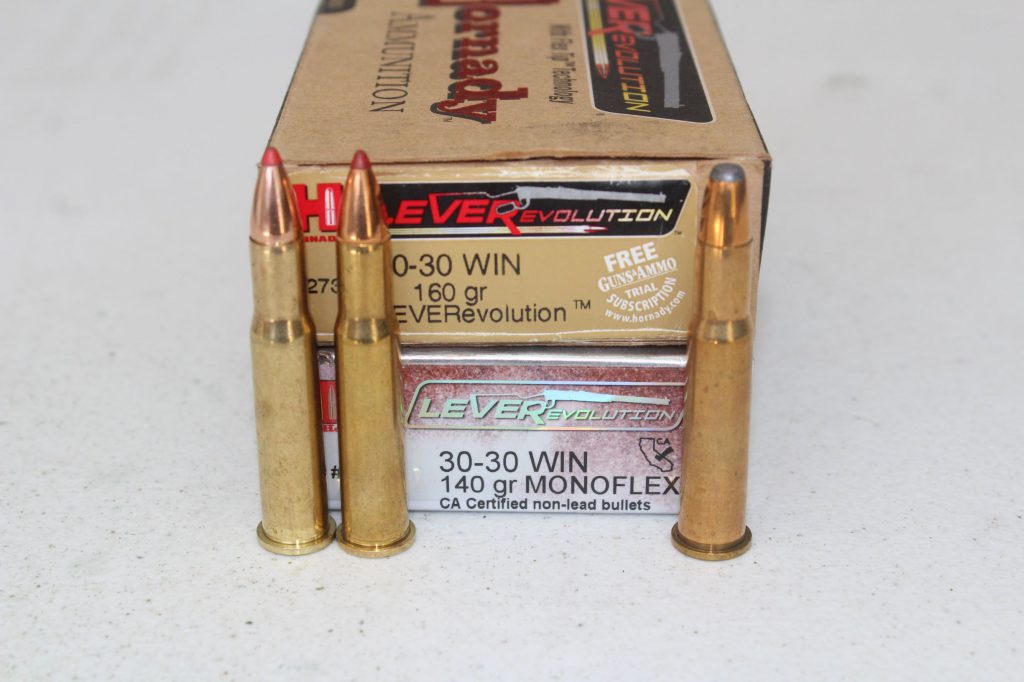 Nobody ever said the .30-30 was a long-range cartridge…but not everyone needs to shoot at longer ranges. On our Kansas farm most of our whitetails are taken at less than 100 yards…and only a couple of stands offer even the potential for a shot beyond 200 yards. If you're sitting over Southern soybean fields or endless expanses of Canadian wheat farms, then that's a different story. But, across the continent the .30-30 shoots flat enough for most whitetail hunting…and hits plenty hard.
Although I've taken few deer with a .30-30, I've used it a lot for wild hogs. In Texas and the south, most hogs are taken from stands; as with whitetails, the most likely shooting distances are known. Alternatively, a fair amount of hog hunting is done with hounds. In all dog hunting shooting distances are very close. Whether for hogs, black bears, or mountain lions, almost every experienced houndsman I've ever known has a short, fast-handling, and much-battered .30-30 carbine. Most of my hog hunting has been along California's Central Coast. Dogs are legal, baiting is not, but most of my California pig hunting is glassing and stalking.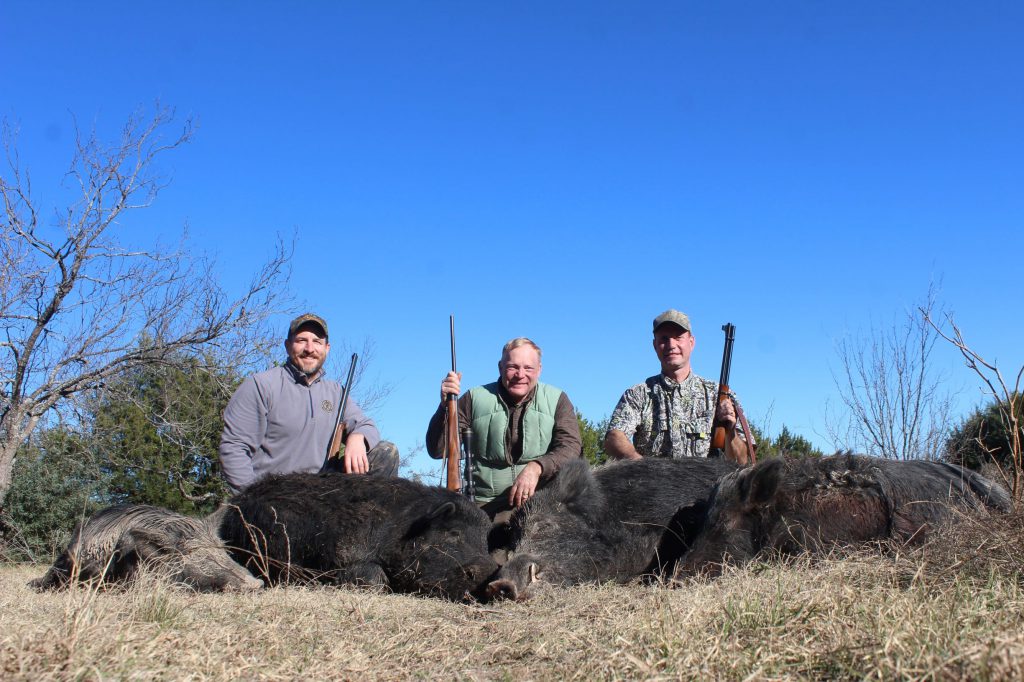 In spot-and-stalk hunting you have no idea what kind of shot you might get! Pigs have keen noses and excellent hearing, but either they can't see very well or use their eyes only as a tertiary defense. Get the wind right and move quietly, and in our mixed cover an approach can usually be made. As with deer, I've taken hogs with a lot of different cartridges. In the 25 years I've lived on the Central Coast our year-around hog hunting has served as my cartridge-bullet-rifle test lab. Longer shots are surely possible, but over the years I've taken just a couple of hogs beyond sensible .30-30 range—and I've never had any reason to suspect the .30-30 was anything less than plenty of gun.
Mind you, wild hogs can be larger than any deer, and although the whitetail is very tough, I think a big boar is tougher. But not tough enough to withstand a well-placed bullet from a .30-30. Despite mild paper ballistics, the .30-30 has a lot going for it. In 1895 Winchester chose the .308-inch bullet diameter of our then-new military cartridge, the .30-40 Krag, adopted in 1892 A few years later we moved to a larger-cased rimless cartridge that we came to know as the .30-06. The .30-06 is faster and more powerful than the .30-30, but here's the point: Since the 1890's we have known that a .30-caliber is a big bullet on deer-sized game. Within a cartridge's effective range, a .30-caliber hits harder than a bullet of smaller diameter. With a century and a quarter of experience, we also know that, at .30-30 velocities, .30-30 bullets perform well, expanding reliably and providing deep penetration.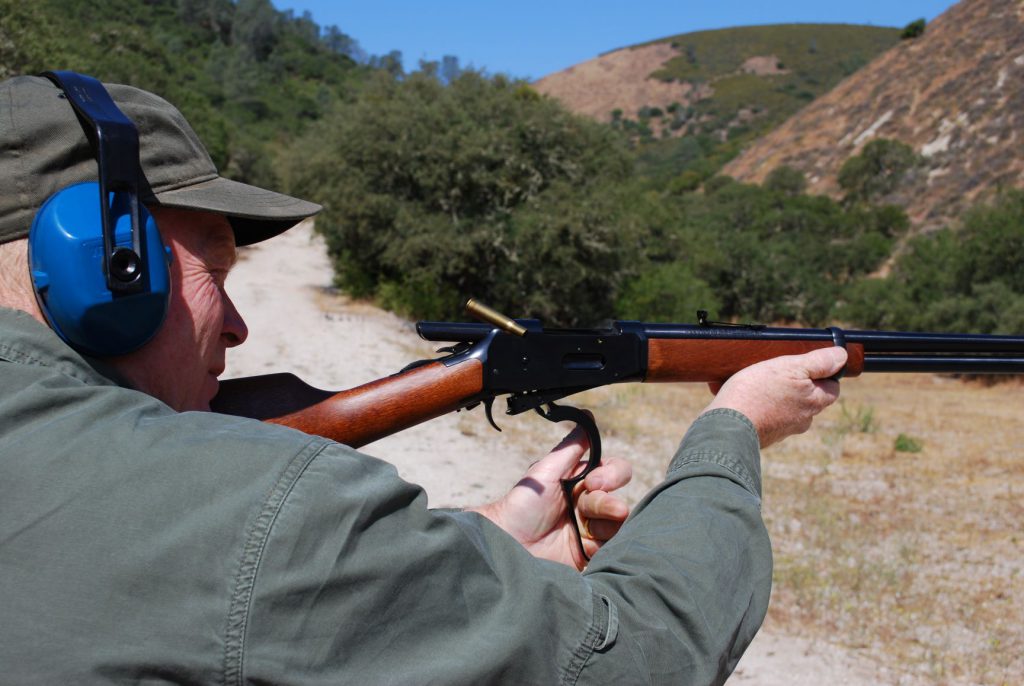 A century or so back the .30-30's original 160-grain load was replaced by 150 and 170-grain loads, which remain standard .30-30 fodder. As smokeless propellants improved velocities were also increased; the 150-grain load is standard today at 2390 fps; the heavy 170-grain load at about 2225 fps. The .30-30 rifle I have the most experience with is a short-barreled Model 94 Trapper. It grouped especially well with Winchester's old 170-grain Silvertip load, so that's what I've usually used. Historically, the tubular magazine lever guns are limited to flat- or round-nosed bullets, with aerodynamics sort of like thrown rocks. In my 16-inch barrel my actual velocities are lower than advertised, but who cares. That slow 170-grain bullet consistently delivered through-and-through penetration on both deer and wild hogs, and I don't think I've taken a shot beyond 100 yards with that rifle.
Today we have newer, game-changing options. Introduced in 2005, Hornady's LEVERevolution line incorporates sharp-pointed aerodynamic bullets with flexible polymer tips that are safe to use in tubular magazines. New propellants allowed slightly increased velocity. LEVERevolution now offers two .30-30 loads with spitzer bullets: 140-grain homogenous-alloy MonoFlex bullet at a zippy (for the .30-30.) 2465 fps; and a 160-grain FTX (Flexible Tip eXpanding) at 2400 fps. Sight either load about three inches high at 100 yards and you're dead-on at 200 yards. So stoked, the .30-30 is thus perfectly viable beyond 200 yards on deer-sized game.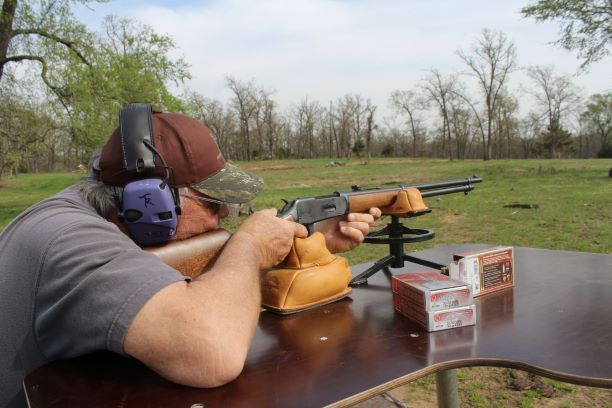 Depending on where and how we hunt, many of us don't need to shoot even that far. So, allow me to let you in on a little secret: Hornady's new bullets expand well and penetrate reliably. However, blunt-nosed bullets, especially flat-points, tend to deliver a heavy initial blow, and typically, blunt-nosed bullets initiate expansion more rapidly than sharp-pointed bullets. Those of us who crave ranging abilities have damned blunt-nosed bullets since the 1900's. However, I submit that the .30-30's tremendous reputation as a deer cartridge is based, at least somewhat, on those hard-hitting traditional blunt-nosed slugs.
Historically, most of my hunting with a .30-30 has been with iron sights. This sharply limits my range anyway, so I've mostly used traditional flat-points and round-noses, and I've been perfectly happy with the results. Today, with iron sights getting a bit fuzzy, I've gone to either scopes or red-dot sights. With extended capability, I'm using Hornady's spitzer bullets, also perfectly happy with these results…but if you know your shots will be close, don't overlook the traditional blunt-nosed slugs. Everybody, including Hornady, still offers them.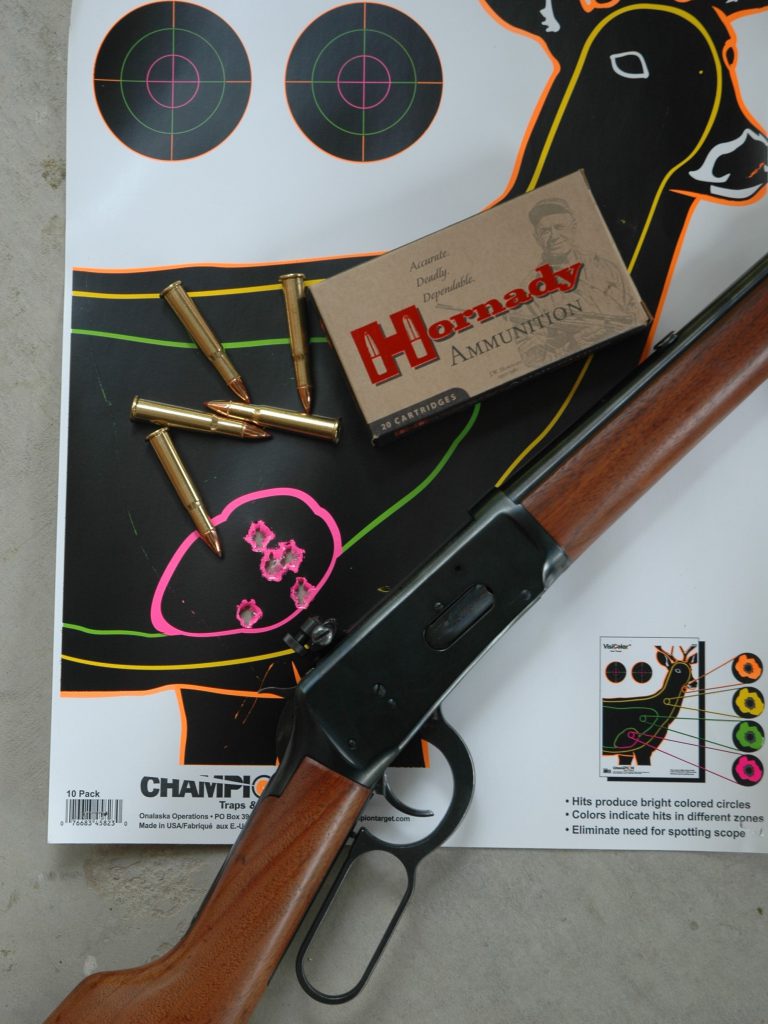 With so many brave new cartridges we tend to think of the .30-30 as mild and unassuming, but let's not sell it short. The formula that derives kinetic energy in foot-pounds uses the square of velocity, while bullet weight is taken "as is" and bullet diameter (frontal area) is not considered at all. Slower cartridges cannot win the foot-pounds race, but most experienced hunters agree that paper ballistics don't tell the whole story. Hornady's FTX 160-grain load (not a light bullet!) at 2400 fps develops 2046 foot-pounds of energy, over a ton. This is theoretically adequate for elk, more than plenty for deer, and enough for most anything between deer and elk. The amazingly popular 6.5mm Creedmoor, with a 140-grain bullet at 2700 fps, develops about 2200 foot-pounds. With foot-pounds, velocity always wins, so this is more kinetic energy than any .30-30 load can deliver…but not by all that much! No scientific formula exists to properly factor in bullet weight, frontal area, and bullet performance.
My experience suggests that a .30-caliber (.308-inch) bullet hits harder than a 6.5mm (.264-inch) bullet. Certainly it delivers more energy on impact and makes a bigger hole! If you need to shoot at longer ranges Lord knows we have plenty of choices…but for short to very medium ranges don't overlook the .30-30…it's still the deer-slaying machine it has always been!