By
Craig Boddington
For most of us, a day at the range is just plain fun. Sure, most of us have an agenda: Improve skills, group loads for accuracy, check zero for an upcoming hunt. For some, banging away is pure pleasure, because shooting is fun. It's fun for me, too; I go to the range for all those reasons.
And more, because range day is also serious work. As a gunwriter, I'm always fighting (and juggling) deadlines. Some articles are hunting stories. Others are gun stories, and many, with hunting guns, are a mix. Whichever, range time is important, and precious.
Reasonable weather is almost essential, a big problem in many parts of the country, sometimes impossible on winter days in Kansas. I'm often asked why we haven't pulled out of California completely. Grand-kids are good reasons, and I often cite the year-around hog hunting that I love. Range days are more good reasons. The range I use, on a friend's ranch not far from town, is up a deep canyon, cold in winter and blistering hot in summer, but protected from most winds. Except for infrequent rainy days, I can shoot in at least marginal comfort throughout the year. Honest, the ability to get in a range day almost any time I need to has much to do with how I've been as prolific and productive as a gunwriter all these years.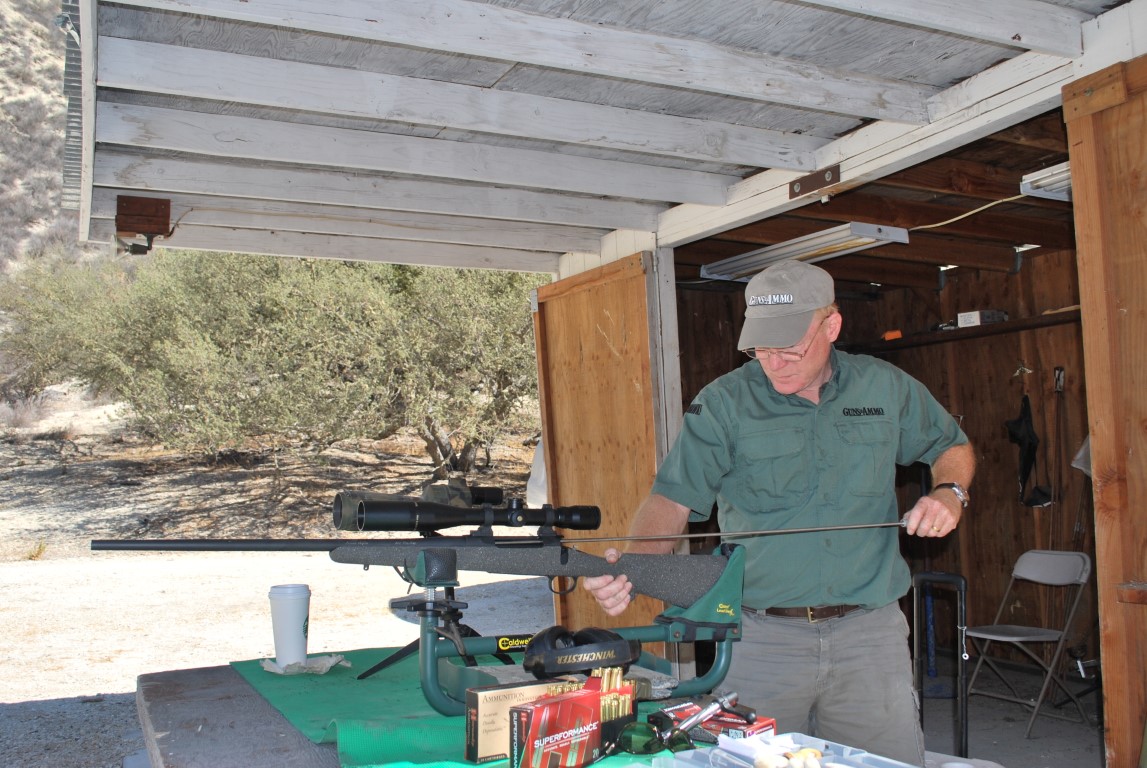 Now, it isn't like stepping out the back door and shooting, as I can do at the Kansas farm (when weather allows). The range is too far from the house to run back and forth. I have to be organized, and make sure I have everything I need.
Often, I take a half-dozen firearms to the range. A couple I need to run through their paces for articles. Always, a .22 to practice with while barrels are cooling. Maybe a favorite hunting rifle to check zero, or to group a new handload recipe. At least one pistol or revolver, just to keep my hand in. Oh, sure, I've gotten to the range and realized I forgot to grab ammo for one or another, or maybe I forgot a spare scope in case I want to make a switch.
If I forget something for a gun I need to write about, that's an expensive waste of time. So, I try to be organized. I make lists—guns, ammo, gear—and I check them off while I'm loading the truck. As for gear, I don't need to haul everything. We have a little range house that holds targets, rests for the bench, shooting sticks, staple gun with lots of staples.
Most of what I need to bring stays in my Range Bag. Hunting buddy Gordon Marsh, proprietor of this site, and our mutual friend, Bill Green, spent a lot of time creating the "Boddington Gear" (www.boddingtongear.com) you'll find on this site: Soft gun cases, range bags, and more. Available in good waxed cotton and excellent buffalo leather, I'm really happy with these products. The real point is: A great deal of thought went into the design.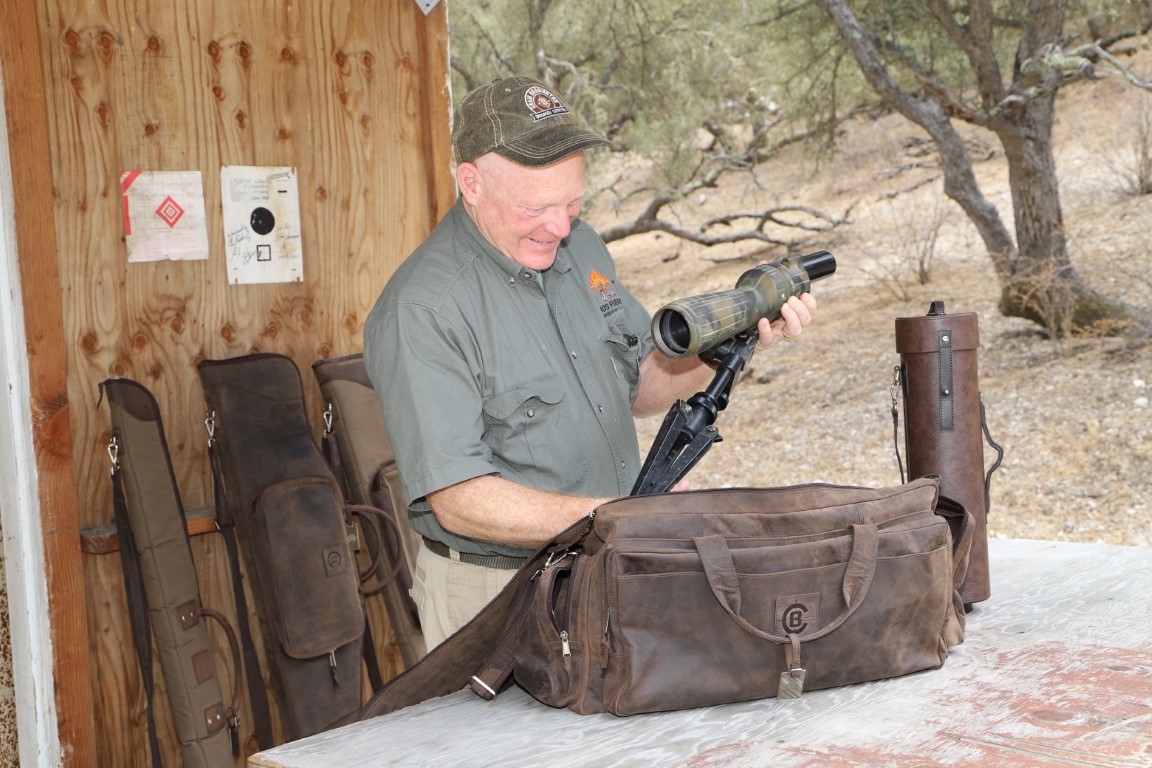 Good soft cases are essential to protect and safely transport valuable firearms, but my writing business truly depends on the range bag. I designed it large, because I haul a lot of stuff back and forth to the range. Side and end pockets are roomy enough to hold handguns in rugs…and a staple gun. I carry a spare in the range bag, 'cause I've had them quit just when I needed to change targets.
Most of us who care about accuracy save targets, either to compare or brag about. I'm big on this, because when testing firearms, I have protocols to meet, as in "five five-shot groups with multiple loads." I must save targets, so I can measure groups and photograph them later. I have two options. The range bag has a built-in file folder, not just for targets, but for instructions and other printed info. And, I have my buffalo leather target case, a cylindrical tube that allows me to roll up targets and save them with no damage. (Don't save targets? It's also a perfect fit for a straight-ocular-lens spotting scope.)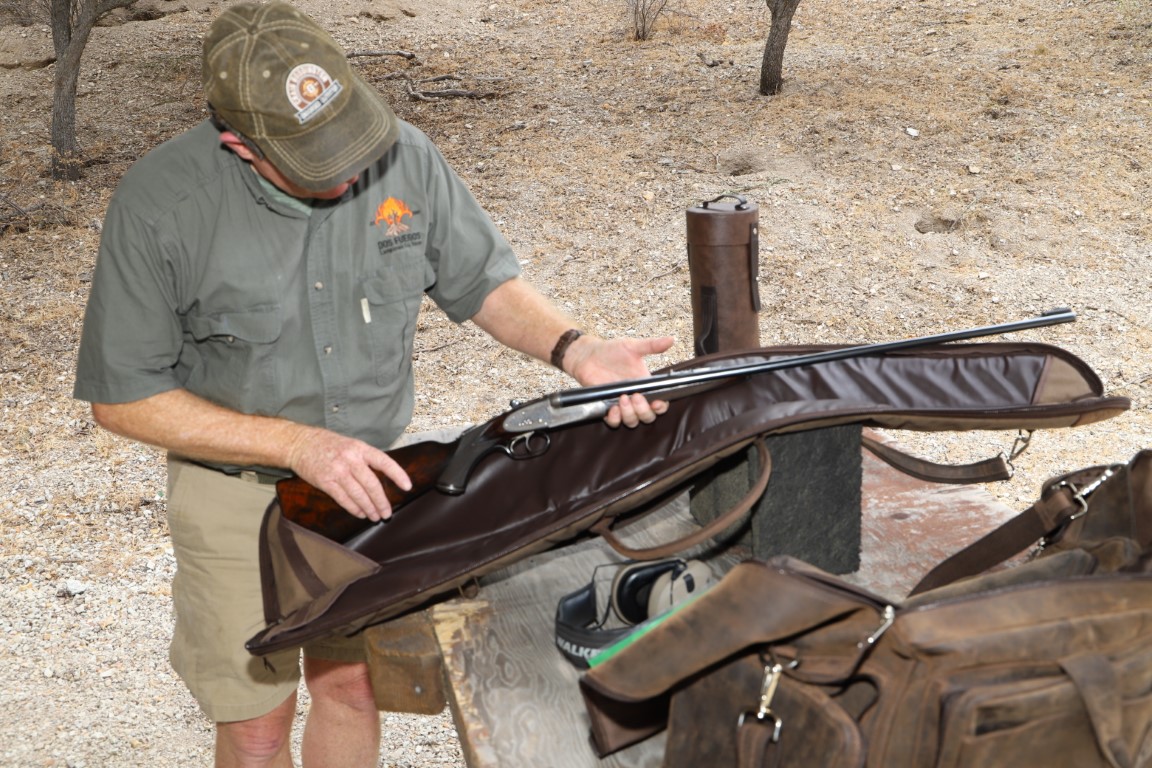 Now, regardless of what range bag you prefer, here's the stuff I cram into mine for almost every range day. A small set of gunsmith tools, so I can tighten up screws or switch out an optic on the range as needed. A PAST recoil shield, used religiously for shooting off the bench with almost anything from .30-caliber up. Our Marine Corps mantra was: "Pain is good. Extreme pain is extremely good." Sorry, but we shoot better when recoil doesn't hurt, so at the bench I sissy up. Light, beanbag sandbags, so I can get my benchrest support exactly right. Also, a big leather "competition" shooting glove for the supporting hand. In my case, the right hand, because I'm left-handed. I use it on the bench, and in prone, to snuggle the butt against my shoulder, and to make fine elevation adjustments, keeps the rear sling swivel stud from barking my hand.
Naturally, shooting glasses and earmuffs! A spare left-hand strap on cheekpiece so, as needed, I can get the cheek-weld just right, often essential with unfamiliar test rifles, especially with today's ever-larger scopes that must be mounted higher. And, down deep in one of the pockets, spare batteries—for any device you carry that might need a battery!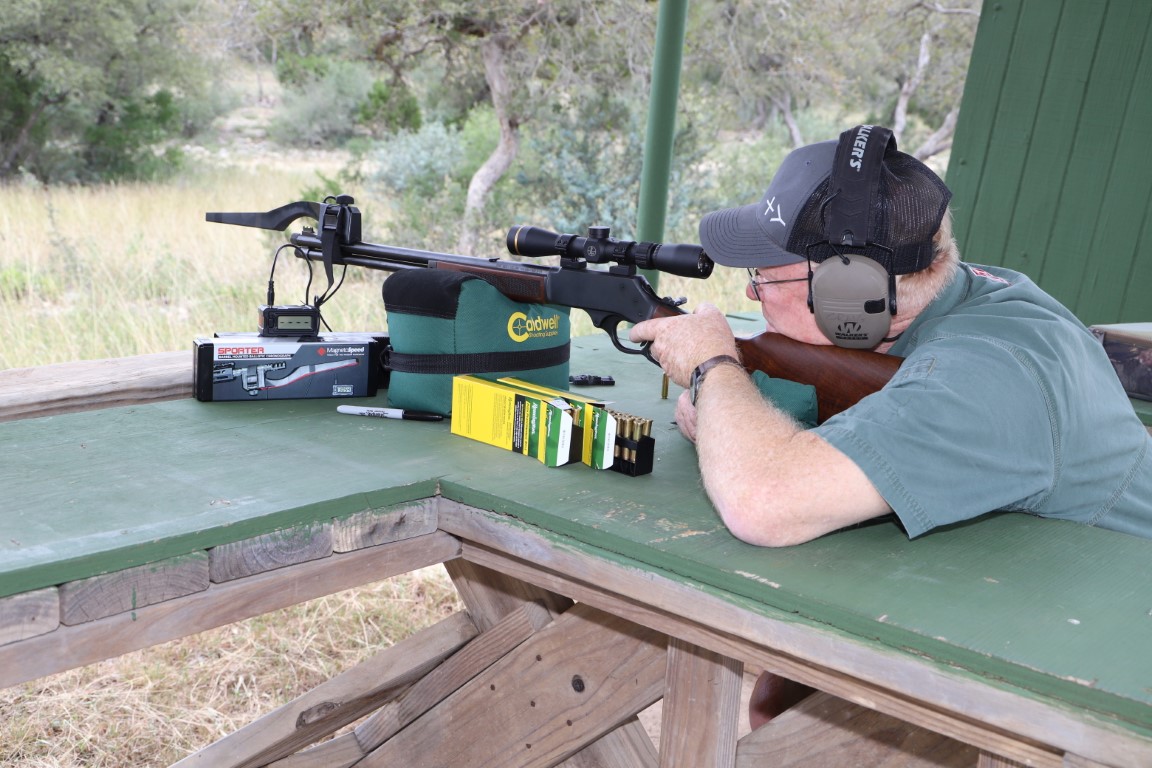 Since part of my range days involve "test guns," I carry a digital trigger pull gauge. Mine is from Lyman, stores multiple tests and yields the average. A chronograph is another essential device, invaluable for handloaders and long-range shooters, and a required work tool for me. The Oehler 35P has long been the gold standard; I've had one for 40 years, love it because it yields all needed data on a printout. However, the Oehler is bulky, stores in its own separate hard gun case, and takes time to set up. A few years back, I got a Crony, compact and easy to use, range-bag compatible. My buddy, who owns the ranch and thus the range, also has a Crony, keeps his in the range house, so it's available on that range. The Oehler and Crony operate off skyscreens, detecting the passage of the bullet. The Oehler is absolutely accurate, but skyscreens are finicky in some light conditions.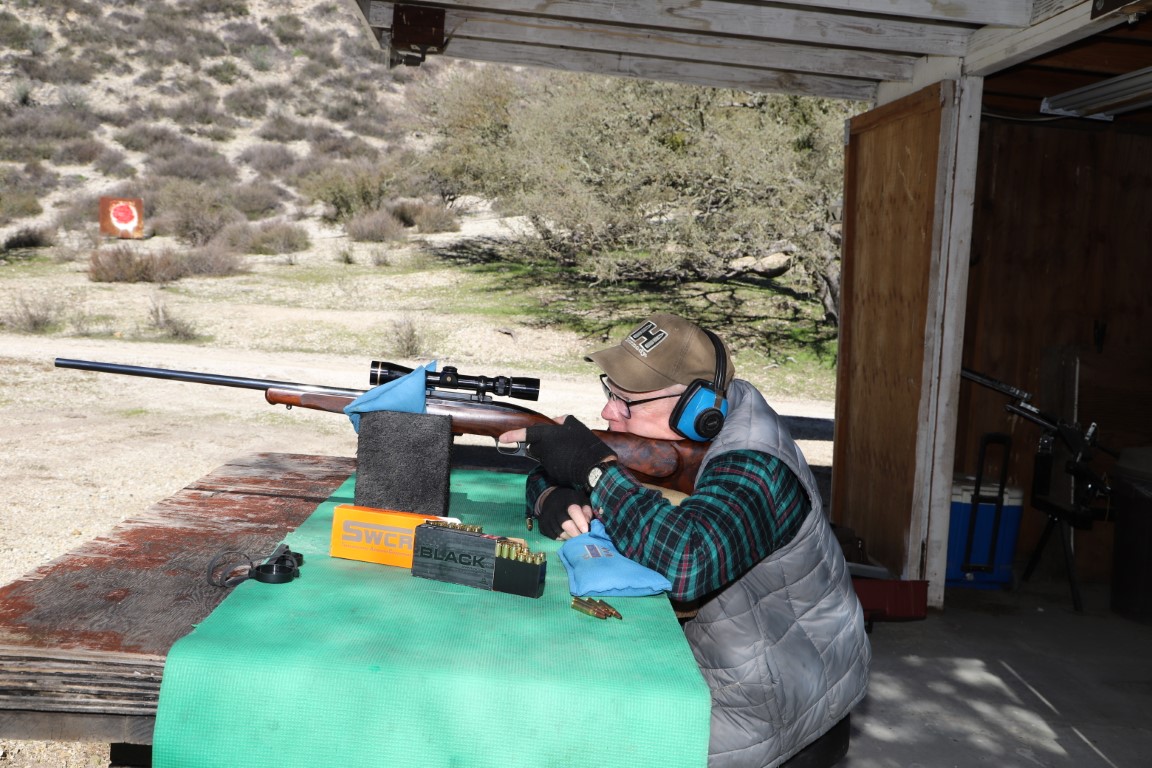 Recently, I got a MagnetoSpeed, measuring speed with electromagnetic sensors. The MagnetoSpeed Sporter now lives in my range bag. Inexpensive, weighs little over a pound, and folds up into its 12×3-inch case, about the size of a cigarette carton. It attaches to the barrel in seconds, stores up to 12 shots in a string, and yields High. Low, Average, Extreme Spread (ES), and Standard Deviation (SD). Mostly a rifle guy, MagnetoSpeed does almost everything I need, and can even go on hunts, to verify velocity and thus long-range data as atmospherics change.
EXTRAS
Note that I said "almost." MagnetoSpeed cannot be used with suppressors. And, since it attaches to the barrel, is not compatible with semiauto pistols with full-length slides. I just ordered a LabRadar, awesome device, measuring speed with Doppler radar. It will work on almost anything…except shotguns (multiple pellets confuse the radar).
Although fairly compact, LabRadar is a bit large for my range bag, so I'll carry it separately when I need it. That's not the only thing I carry separately. My camera(s) go in my daypack, along with binocular, or in a camera bag. The range spotting scope has a small tripod that fits handily in the bag, but if I intend to do some "setup" shots, I take a tripod for camera use.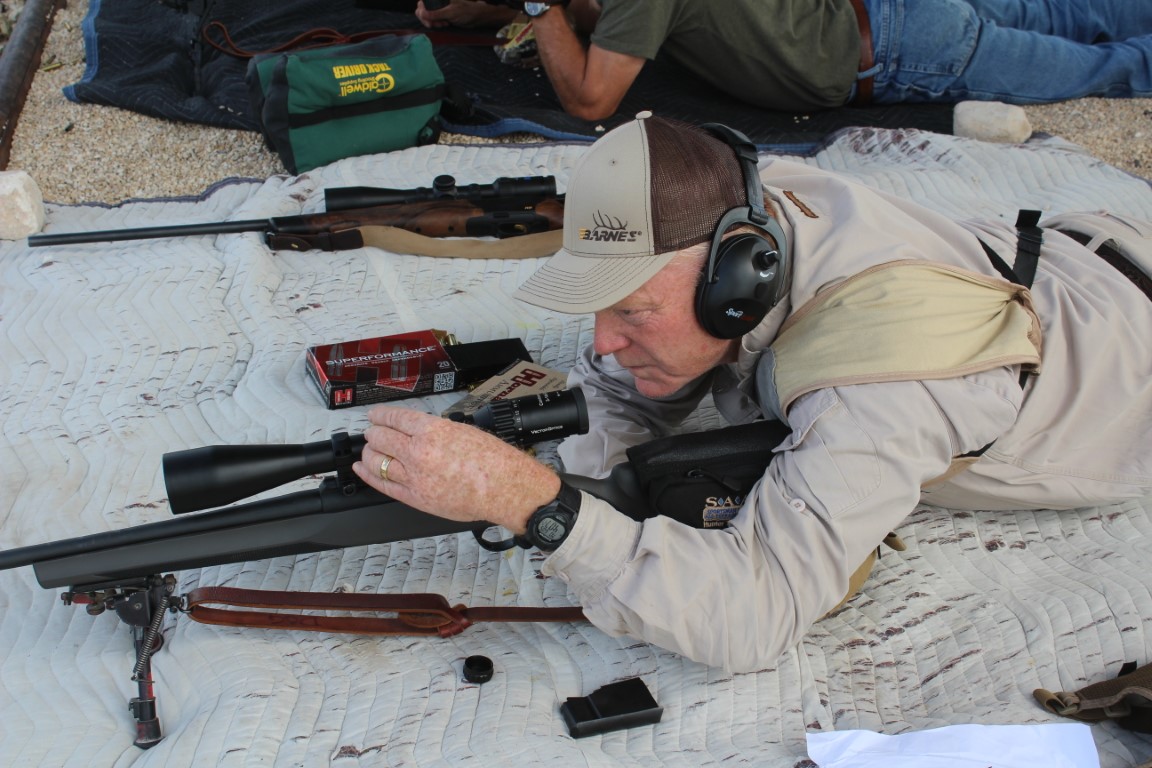 I like to clean at the range, either when finished, or between series of groups. For most of us, the range bag easily holds a jointed rod and everything else, but since I'm usually hauling multiple firearms in various calibers, I usually throw in my big Tipton cleaning set, about the size of a large toolbox. If I have it, I know I have all the right-size brushes and jags.
Most of us have calm, relatively focused range sessions with just a couple of firearms. The range bag probably has adequate room for all the ammunition needed, but my life doesn't work that way. On my range days, I may have firearms chambered to a half-dozen different cartridges…with multiple loads for each. I put all my ammo in a separate box or bag, so I can keep it sorted, use one at a time…and then put back when I'm finished with that firearm. However you do it, there's one cardinal rule: Just one caliber/cartridge on the bench at any time!